Project Runway Designers Tackle the Concept of Jet-Setting
Our plucky contestants design looks for Aspen, Palm Beach, St. Tropez, and basically anywhere else Michael Kors likes to go.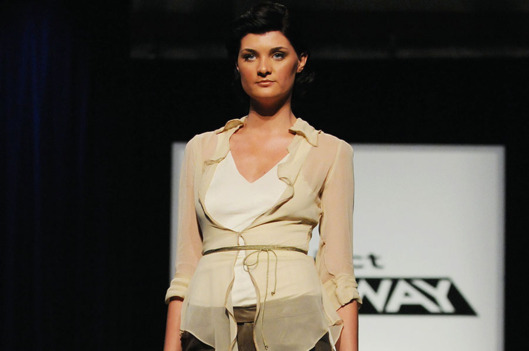 This week's Project Runway challenge kicked off with Heidi announcing that the contestants were heading to Rodeo Drive to "meet a top designer whose work is known around the world." Gee, who could it be?! As Althea wisely points out, "The possibilities are endless because every single designer who is world-renowned has a store there." True! But the contestants' faces fall a little when it's revealed that the "top designer" is none other than that dude they already know, Michael Kors. Whomp whomp. Kors tells them about their challenge, which is to design a look inspired by one of his favorite bitchy jet-setting destinations: Palm Beach, St. Tropez, New York, Greece, Aspen, Santa Fe, or Hollywood. And while we were hoping for an overly spray-tanned Carmen Kass to pop up in a high-waisted bikini to add a little more excitement to the challenge, alas, it is as anticlimatic as it sounds. As the poorly traveled designers stumble through the challenge, Tim warns them to avoid the trappings of cliché (i.e. Palm Beach equals a long flowy printed dress, Aspen equals ski pants and fur). While some of the designers clearly ignore his advice, others just ignore their locale of inspiration altogether and send some first-class fuggery down the runway. Nina Garcia and Milla Jovovich join Heidi and Kors to tear it all apart. On to the looks!
BEGIN SLIDESHOW