Project Runway Designers Tackle Wedding Gowns
Because nothing says you're ready to date again like wearing your old wedding dress!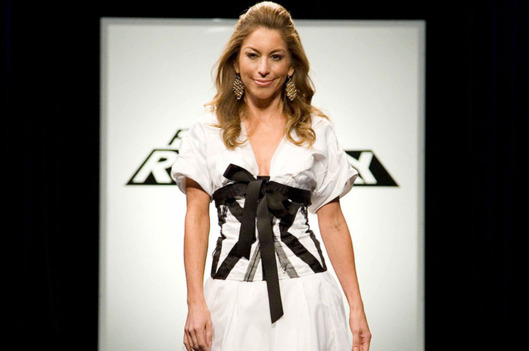 The Project Runway designers had to face their worst fear: wedding dresses. (Well, except for Carol Hannah, who used to make wedding dresses, so cutting one up is akin to "running into a church and swearing at the top of your lungs.") This episode of Project Runway begins with Heidi telling the designers that they will have new models (cue panic); then when real-people models walk out in a variety of outdated wedding dresses (cut to gag-worthy nineties ballgowns and lace-necked, long-sleeved seventies styles), eyes are filled with utter horror. Then, a plot twist! They won't be creating revamped wedding gowns, because the "models" are actually divorced, and, as Heidi explains, need help to turn their garments "into hip, cool outfits that they can wear in the next chapter of their lives" (because nothing says "I'm sexy, single, and ready to mingle" like a cut-off wedding gown). Irina, who the other designers (or at least Logan) are starting to hate on for her two consecutive wins, chooses her model first, selecting a divorcée with yards and yards of "crunchy" acrylic lace, while Shirin continues her streak of bad luck and gets stuck with a skimpy minimalist dress (only two yards of polyester, which means she can't even dye it! Woe is Shirin). And so, the runway-show results.
BEGIN SLIDESHOW