Nomia's Yara Flinn Takes On Tough Girls With a Softer Side
The fall season is about raw sexiness, while spring introduces color.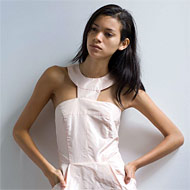 Yara Flinn of Nomia isn't out to dress celebrities. But when she found out that Sonic Youth's Kim Gordon bought one of her pieces at Jumelle in Williamsburg, she knew she hit a great point in her career. "It's the best feeling in the world to hear that someone spent their money on something that you made, and that was the best person I could have, like, ever," Flinn explains. The label, named after a Greek mythological nymph, captures a minimal look without becoming overly simple, with body-hugging shapes, flattering colors, and strategic cutouts. Flinn describes the clothes as art-inspired, a fitting approach considering she studied that skill, rather than fashion design, in college. "I use draping, which I find a lot like making a sculpture," she says. "I really like being able to see how the design is coming out while I am still designing it." Flinn first launched her collection in spring 2007, after a lucky break with Barneys New York — the retailer approached Flinn to place an order after her friend, jewelry designer Pamela Love, wore one of her pieces at a buyers meeting. "I created a line in a week just for Barneys, and they ordered one dress. That's the kind of thing that you're like, it's a sign that I should go with this." Now seven seasons in, Nomia is growing slowly, and Flinn just showed her first official presentation for spring 2010 on the last day of New York Fashion Week, a collection of simple silhouettes in warm, fresh-pastel hues, like a sleeveless dress in nude or pink lace over black. Her fall collection is in stores now, made for "a tougher girl," Flinn says, with exposed zippers, industrial linen, bondage-inspired cutouts, and mesh insets. "This is about raw sexiness — not in a way of exposure, but showing parts of your back and erotic kinds of hints." You can pick up pieces — all of which are produced in New York's garment district — at Steven Alan, Honey in the Rough, In God We Trust, and Dossier. Check out some of our favorite pieces from fall, and what you can look forward to for spring, in our slideshow.
BEGIN SLIDESHOW