Beyoncé's 'Video Phone' Looks: A Breakdown
And you thought you knew leotards.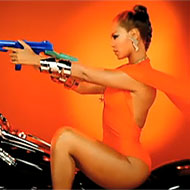 Earlier, we shared Beyoncé's latest video, for "Video Phone," guest-starring Lady Gaga. The intricacy of her wardrobe suggests she's feeling the Gaga pressure. In a burgeoning phenomenon we might call the Gaga Effect, divas everywhere may feel the pressure to push avant-garde fashion to the max to keep up with the pantsless wonder. Beyoncé Sasha Fierce's fashion efforts in "Video Phone" — which make her epic diva money fan a mere distant memory — deserve a look-by-look analysis, because she tried really hard. Enjoy a closer look at each outfit in the slideshow. If we had a dime for every leotard in that woman's closet ...