What Michael Kors, Heidi Klum, and Their Fashion Friends Wore on Halloween
If anyone should look great on this day, it's fashion people.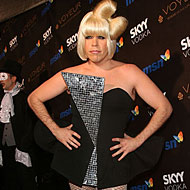 Fashion is all about dressing up, so if anyone should go all out on Halloween, it's models, designers, and their assorted friends. And many of them did for their various parties. Our personal favorite was Michael Kors, but Heidi Klum, Christian Siriano, and Rogan Gregory also looked pretty great. See their costumes and more in the slideshow.