Lady Gaga Lands M.A.C. Campaign
Does this mean she'll have to keep the face masks in check?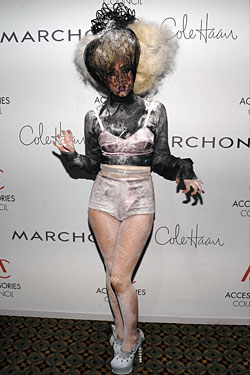 Last night, Lady Gaga attended the Accessories Council's annual ACE awards, where Marc Jacobs presented her with the Stylemaker trophy. You can see she earned it last night in her fall clothes: semi-thick tights and a long-sleeved velvet shirt. Naturally, she had a net of lace over her face to either make a scene or ensure she wasn't able to eat or drink anything there (maybe she's a spiller). Ironically, M.A.C. has just named Gaga a face for their AIDS Fund campaign, along with Cyndi Lauper. M.A.C. will make a Viva Glam Gaga Lipstick and a Viva Glam Cyndi Lipstick for $14 each, with all proceeds going to the M.A.C. AIDS Fund. So maybe now that she's the face of a makeup company, she'll have to wear less crazy crap on her head so she can properly shill. The lipstick goes on sale March 18.