Galliano's Magic Captured in Backstage Dior
A gorgeous new book gives a behind-the-scenes look at the magic of a Dior show.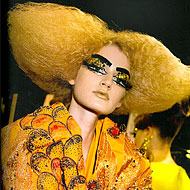 Famed photographer Roxanne Lowit has shot everything from ad campaigns for Vivienne Westwood and Emporio Armani to editorials for Vogue and Vanity Fair, snapping celebrities like Scarlett Johansson and Johnny Depp in between. However, amid her hectic schedule, Lowit has been camping out behind the scenes at John Galliano's Christian Dior shows for the past decade. Her mesmerizing new photo book, Backstage Dior, features a forward from the man himself, plus contributions from Suzy Menkes, Simon Doonan, and Valerie Steele. But most importantly, it's a trove of gorgeous, glossy photos documenting the theatrical drama that is a Dior fashion show. Here, a hefty pile of pictures from the book.
Backstage Dior by Roxanne Lowit, $75.78 at Amazon.com.