Design Hunting: The View Atop Columbus Circle, Young Talents in Small Spaces, and More
In the hands of the mid-century French designers, even a corncob lamp is elegant.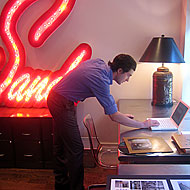 Our tireless design editor Wendy Goodman makes the rounds of all things new and beautiful. This week's group includes Dietmar Busse's petal photographs, Alison Woodward's handmade jewelry, a sneak peek at the restaurant Robert, the talents behind Silkstone catering and event planning, and proof that in the hands of the French, even a corncob lamp is elegant.