The Remarkable Flesh-Toned Stylings of Nicole Kidman
We compiled a slideshow of a few of her fleshiest looks of '09.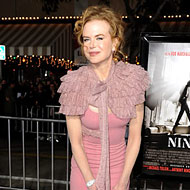 Nicole Kidman has much promotional work and many red-carpet appearances coming up for the release of her latest film, Nine. And one would think she would want to sparkle and shine like the mega movie star that she is, stealing the spotlight from her many other high-wattage female co-stars by way of mega-movie-star gowns. Not that she has to be flashy like Beyoncé with a scary amount of sequins and glitter, but Nicole has a habit of wearing flesh tones, which are often the opposite of standout. In fact, they practically make her invisible. Her neck, her arms, her legs — any area where skin meets fabric becomes a haze of sameness. Remarkably, the woman seems to find a flesh-toned version of every color recognized by Pantone. And we're tired of it. It's nice from time to time, but we'd love to see her in more color, reds and things. Hell, even chartreuse! Take a look back at her flesh-hued frocks of 2009 in the slideshow.