Best Bet: On the Rocks
Unlike ice, whiskey rocks chill your drink without watering it down.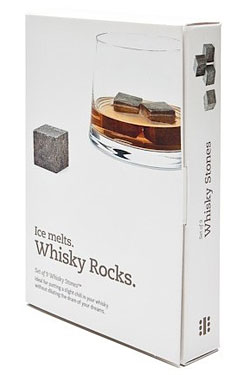 For those who didn't resolve to drink less this year (and those of us who have already resolved and failed), we've discovered an inexpensive addition to your home bar: Whiskey Rocks. Store the stones in the freezer, drop two or three into your next tumbler, fish them out after a few minutes (or not), and enjoy. Unlike ice, these flavorless cubes chill your drink without watering it down. Though they seem particularly useful for cocktails during sweltering summer months, we'll be using them for stiff drinks this winter — especially before venturing out in 20 degree weather.
Whiskey Rocks, $19.95 at Annie's Blue Ribbon General Store, or preorder online (in stock 1/15).