Modern Tapestry, Brilliant Lighting, and Mid-Century Furniture to Lust After
How does a lighting designer light her own home?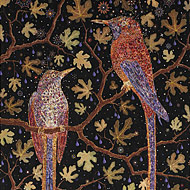 Wendy Goodman visits the James Cohan Gallery, which has an exciting tapestry exhibit opening tomorrow. She also went out to the Williamsburg studio of lighting designer Linnaea Tillett for some one-stop lighting shopping, and stopped by Galerie Van Dan Akker, where she found a gorgeous array of mid-century European furniture.