Mobile Digits: The Best Fingerless Gloves for Winter Weather
Eight pairs of fingerless gloves to keep your fingers free and your hands warm.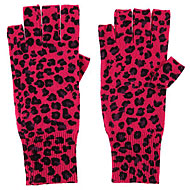 In winter weather, there's nothing worse than cold, bare hands. But gloves and mittens, warm as they may be, can make typing texts and e-mails on our mobile devices a slightly tricky endeavor. To keep our fingers free and our lines of communication open, several labels are offering fingerless gloves this season. We scoured the market and found a variety of pairs that will keep us warm, yet totally connected, this winter.