Shabd's Painterly Designs Offer a Fresh Take on Tie-Dye
Check out the Brooklyn-based designer's hand-dyed dresses, tees, and leggings in vivid prints.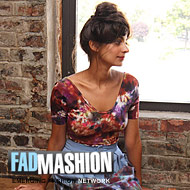 Shabd Simon-Alexander started creating and selling her vibrant dresses and tops while studying photography at NYU, an artistic side project to help pay the rent. She favored bold, geographic, and patchwork prints and colorful plaids, which she lined in tie-dyed silk. After receiving a bevy of requests for more of the watercolor-like prints, she focused on perfecting her tie-dye technique in earnest, launching a full collection of hand-dyed tanks, tees, dresses, skirts, leggings, and tights — as well as a new e-commerce site — last spring. She's also a featured designer at FadMashion.com.The spotted, swirled, and streaked designs have become her signature, influenced both by nature (photos of galaxies, the Northern Lights) and less-obvious urban fixtures, like granite buildings and textured city sidewalks. "I'm inspired by anything with really rich, intricate, textural color patterns," Simon-Alexander says. (Newly introduced hand-painted abstract prints were inspired by drawings from her 4-year-old niece.) She paints and dyes each piece individually in her Williamsburg studio, making each item one-of-a-kind. The resulting pieces are beautifully distinct, from standout tights in brilliant oranges, pinks, and yellows to silk dresses that resemble works of art. This spring, the tees will be stocked at Steven Alan, and silk dresses from her spring line will be available at Jumelle. Select items are 30 percent off on her website through February 4, so now's the time to splurge. Click ahead to see more of the spring 2010 collection.
BEGIN SLIDESHOW