Design Hunting: Roaming the Floors at Ralph Pucci, Marcel Wanders for Baccarat, and Chocolate!
Is this a sign that tradition is seeping back into our lives? Or that someone had some inventory they wanted to unload?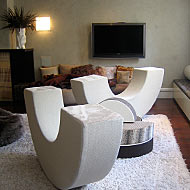 Design editor Wendy Goodman falls for the craft-is-art Denyse Schmidt quilts at Ralph Pucci International, finds a young mom who's figured out how to store her kids' toys (inside the furniture), and witnesses the imaginative work of Marcel Wanders for Baccarat. Plus, delicious chocolate!