Jason Wu's Victory Lap — Er, Sprint
Wu's exuberant run was a reminder that there is joy to be found in fashion.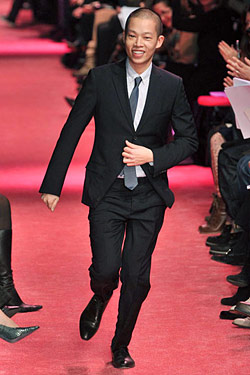 When you've decided to show your fall collection on a pink-carpeted runway so long guests almost needed binoculars to see models emerging onto it, a standard designer's bow-and-wave is out of the question. So instead, Jason Wu sprinted, from end to end. Wu's exuberant run — complete with a leap near the photographers — this afternoon at the Waterfront felt like a gift, a reminder that there is joy to be found in fashion.
"That's the most exercise I've gotten in months!" said a smiling Wu afterward. "I haven't had a chance to leave the studio. That was so fun. I mean, I worked tirelessly on this collection for the last two months and I really wanted it to be a celebration of the New Year and the new development in the company — I just moved. There's a lot to be happy about right now, and I'm feeling really optimistic and really happy today. Also," he added, "I walked down the runway, and it's very long and everybody's really busy, so I thought I'd sprint."
As for the Taxi TV piece on Wu we've seen about seventeen times in the past two days, the designer said he has seen it plenty, as well. "But lately I have been living in the studio, so I haven't been in a cab in a long time."