Lady Gaga and Beyoncé Wear Giant Ruffles on the 'Telephone' Set
Images from the shoot have leaked!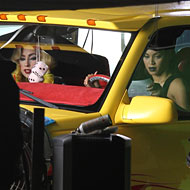 The concept of Lady Gaga's video for "Telephone," featuring Beyoncé, reportedly involves Beyoncé rescuing Lady Gaga from prison. Shots of the divas on the set have emerged, offering a scant look at the makeup and costumes. So far, no images of the ladies in destroyed denim have emerged, though that sort of thing is also rumored to be part of their wardrobe. However, they do appear to wear coordinating iridescent leotards with giant ruffles sticking out every which way, which we hear are designed by Nicolas Petrou, who also designed the white jumpsuit Gaga wore for her Oprah interview. But this is a good sign — if Gaga fits through a doorway effortlessly, she's not doing her job.
Lady Gaga x Beyonce - "Telephone" Video Shoot (Pics) [H.e.r]
Earlier: Beyoncé Will Reportedly Rescue Lady Gaga in 'Telephone' Video, Clad in Destroyed Denim