Project Runway Recap: The Runway Goes High-Tech
They make their own patterns. Riveting.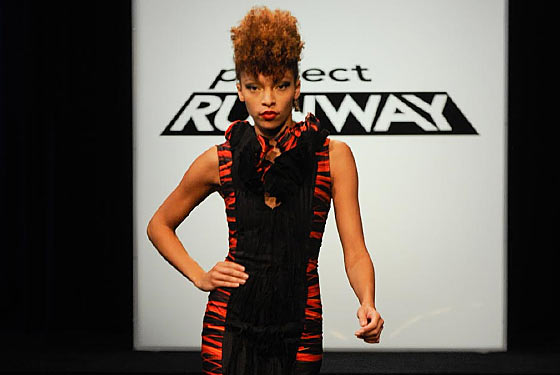 Noooooooooooo. Aaaaannnnthonyyyy! Yes, our dear friend Anthony was given the boot last night, and we're very sad about it. We'll try to take his parting advice to heart: "Don't cry for Anthony, honey. As a matter of fact, toss one back for me." He was the comic relief of an otherwise dullsville cast, and we fear the rest of the season will be one long Mila fest. Sigh. This week's challenge involved designing a textile and creating a look out of it, and Vivienne Tam was there to shill for HP — she turned a butterfly into a fabric using the HP Touchsmart Desktop! Amazing!
So the designers get to play around with a cool computer for a while, and right away it's clear who's going to be in trouble: Anthony, who tells us he's struggling, and Jonathan, who thinks it's a good idea to create a fabric pattern so subtle that he can't even see it on the printout. Much of the focus of the episode is on Anthony, which doesn't bode well for our funny friend. "I don't purposefully try to be entertaining, people just laugh at me for some reason," he says, which isn't completely true, but we really don't care. Telling Jay that he looked like "a gay Christmas ornament" was one of the few laugh-out-loud moments of this season, and we'll take what we can get. The designers receive their original fabric, and it's actually pretty cool to see how quickly that can be done. Emilio makes a graffiti signature print with his initials; Tim is worried about it, and then Emilio rudely disregards Tim's advice! Uh-oh, Emilio, we were on your side until the minute you turned on Tim Gunn. Mila creates a multicolored striped mess, and though her pattern is fugly, she proceeds to call both Emilio and Anthony's taste "questionable." Jonathan, still mourning the loss of Amy, seems off his game this week. Says Anthony of his look: "Everything is pale as hell." ("Pale" and "hell" rhyming, of course.) So let's move on to the runway, where Tam is the guest judge, and Michael Kors seems like he's in a really bad mood.
BEGIN SLIDESHOW