Anna Wintour Discusses Fashion Bloggers, Irving Penn, and Hamish Bowles's Surfing Lesson
And more highlights from the 'Vogue' editor's lecture at Pratt last night.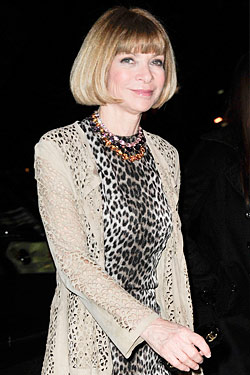 Vogue's March feature on style bloggers may have been one indication that Anna Wintour embraces her fashion-obsessed Internet counterparts. But last night at Pratt Institute, where she spoke before students alongside Vogue's European editor-at-large, Hamish Bowles, she confirmed her love for people like us. Answering one of a number of predetermined audience questions, Wintour said, "We love as much coverage of fashion as possible. We don't care at all where it comes from, and we embrace bloggers and video and social networking, and anyone that's talking about fashion is a good thing. And we now have our own website that incorporates all of that. But I think what's interesting to us with this new phenomenon that 'everyone's a fashion editor, everyone's a fashion writer' is that all of that actually helps Vogue, because we have access and the understanding of fashion that, forgive me, but maybe some bloggers and some of the newcomers to this world have a little bit less experience of, but as I said, the more the merrier. We embrace it."
The lecture was a tribute to the late Irving Penn. Bowles and Wintour together gave a bit of an oral history of fashion photography, illustrated with photographs by Edward Steichen, Richard Avedon, Helmut Newton, Steven Meisel, and Bruce Weber. Wintour spoke of Patrick Demarchelier's involvement in The September Issue and what it was like to shoot a gold-paint–encrusted, pregnant, and bikini-clad Melania Trump (the Donald was dying to get in on the action, so they placed him in a race car in the background). The photo montage closed with Hamish Bowles recalling his surfing experience with Blake Lively, just two weeks ago. "I've known Mario Testino for about three decades. In fact, my debut in the world of magazines is when I'd won a teenage talent competition from a British magazine and Mario was my prize," he explained. "So two weeks ago Mario Testino went to La Jolla with me to photograph Blake Lively, and I was dispatched to write about this, and also to learn how to surf as part of this little portfolio." The day resulted in a portrait of Bowles — who previously went on a hard-core camping expedition for the magazine — on the beach, his bottom half clad in a wetsuit, his upper body wearing a suit and tie, and Lively looking predictably sporty and sun-kissed. (Lively also commented that getting the wetsuit on was "just like putting on a couture dress.")
Wintour called Penn "one of the most important artists of the 21st century," whose "greatness was beyond dispute," and whom she was "in complete awe of." Having braved PETA protesters to get in the door (they surrounded Pratt's gates, holding fake animal carcasses and signs emblazoned with her face and slaughtered creatures), she remembered working with Penn when she arrived at Vogue in 1988. "I had to work out my own relationship with Irving, and it took quite a while. We had a different kind of rapport. It was more like a date. He was a seductive guy and I certainly had an intellectual crush on him."
Penn was also one of the few individuals daring enough to stand up to the notoriously intimidating editor. "Irving Penn and I developed our own ritual that involved meeting every so often for lunch, either at Il Cantinori or the Union Square Café. Over lunch, he would talk about how Vogue had become so commercial, how everything had titles over it ... 'Anna, I don't understand how you can do this,' and that was just the first course … I would throw out an idea and he would turn me down. It took me a long time to realize that with Irving, no meant no. Now, I don't take no very easily, but I learned that with Irving, there was no revisiting. But then, miraculously, we would hit a home run." One such home run was the cover Penn — who "liked strong women, not waifs" — shot of Nicole Kidman wearing Christian Lacroix for the May 2004 issue.
Wintour also spoke of bringing the somewhat reclusive Penn into her social circuit, noting, "He rarely went out in the evening, but occasionally he would surprise you by saying yes. Over the years I took him to a few dinners, particularly after his wonderful wife died. One was at Oscar de la Renta's apartment. Mayor Bloomberg was there and Henry Kravis. And Irving took one look and said, 'Oh, this is a mogul dinner.'" Wintour closed her formal remarks by announcing that Irving Penn "changed the way we saw the world, and our perception of what is beautiful," as Penn's Large Nude Woman Seated portrait flashed on the screen behind her.
And lest her affection for Roger Federer go unmentioned, Wintour proclaimed that if she weren't editor of Vogue, she'd "like to run the Tennis Channel."