Suzanne Rae Gives Silk and Chiffon a Fringe-Trimmed Flourish
Check out the burgeoning Brooklyn label's spring collection.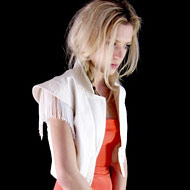 While most young designers spend years as interns and design assistants before setting out on their own, Suzanne Pelaez, the Brooklynite behind the young label Suzanne Rae, opted for a more direct route. After rebuffing her acceptance to medical school to attend the year-long AAS Fashion Design program at Parsons, Pelaez spent just six months each at Costume National and Morgane Le Fay before launching her own label. "Truthfully, with my first collection, I just wanted to see if I was capable of doing it," she says. "And now here I am." Her fall 2010 collection is her sixth to date.
Pelaez's sources of inspiration range from "the concept of the boudoir to Native Americans to the fifties housewife," she says. "It's as if each collection of mine is a sort of thesis on a different topic, involving history, philosophy, sociology, and design." The resulting designs are confident and feminine. With her liberal use of cutouts, ruffles, and fringe, Pelaez aims to be "progressively thought-provoking," she says. Suzanne Rae is manufactured entirely in the garment district — an increasing rarity — and is stocked at Eva and Jumelle. Click ahead to see more looks from her spring 2010 line.
BEGIN SLIDESHOW