Video: Behind the Scenes of Dolce & Gabbana's New Manty Campaign Shoot
Watch underpants-clad soccer players get their abs enhanced with grease and makeup.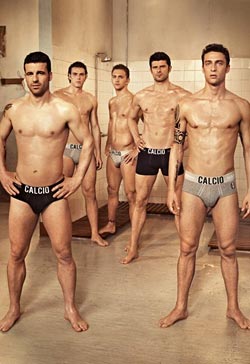 This is Dolce & Gabbana's new manty campaign. The label's Gym & Underwear line is dedicated to the World Cup, and the ad stars Italian soccer players Antonio Di Natale, Vincenzo Iaquinta, Claudio Marchisio, Federico Marchetti, and Domenico Criscito. A new behind-the-scenes video of the shoot reveals that capturing moments like these requires a dedicated team of greasers, who spray the men down with cans that resemble fire extinguishers (huzzah!). Also key are the stagehands who show the men how to tilt their heads just so.