Best Bet: Lunessa's Tiny Wren Earrings
These minute, bird-shaped studs are subtly quirky.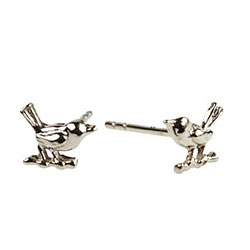 Ever since we saw Michelle Williams wearing bumblebee earrings from Asprey last week at Cannes, we've been yearning for our own pair of animal-centric studs. From Soho costume-jewelry store Lunessa, these Tiny Wren posts fit the bill for their subtle quirkiness and offbeat chicness. In either gold plate or sterling silver, the studs go for a pocket-friendly $15, which suits our non-movie-star budgets just fine.