A Breakdown of Lady Gaga's 'Alejandro' Looks
They weren't as shocking as her past video fashions, but creepy for sure.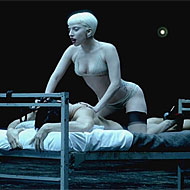 Steven Klein directed Lady Gaga's new music video "Alejandro," and as the previews suggested, it kind of reeks of Madonna. But so what? Old Madonna videos were amazing and hugely popular, so she may as well draw inspiration from them. And Klein was instrumental in crafting Madonna's image, so that aesthetic is bound to carry over to Gaga. This video wasn't as intense, attire-wise, as "Telephone" or "Bad Romance," but it had plenty of fun if not shocking fashion, like her gun bra and bowl haircut. But the best part about Gaga videos is that while the music on its own makes you think of 13-year-old girls putting stickers on their Trapper Keepers, the video brings you somewhere else entirely. See a breakdown of the somewhat creepy looks in the slideshow.