Banana-rama: The Men's Shows Are Baring More Than Usual This Season
See abs (and other bulges) in our slideshow of underdressed male models.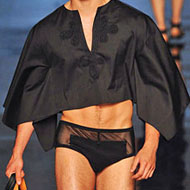 Guy Trebay can say whatever he wants about spring trends for 2011, we're too blinded by the shiny romance-novel flesh of all these underdressed male models to notice the safari suits and socks with mandals. The attire this go-round is notably skimpier even by menswear standards: You've got weenie bikinis in Bottega Veneta, bear-daddy fetish gear from Emporio Armani, and barely there shirts from Jean Paul Gaultier. Let's just hope real dudes don't read this as a call to action; the last thing anyone needs is their dad showing up to work in a Speedo and combat boots. Click ahead to see our skin-is-in slideshow tribute to the shirtless, pantsless heroes of the French and Italian runways.