Alexander Wang, Prabal Gurung, Jason Wu, and More Pose for CFDA Glamour Shots
Get pumped for the Monday-night award ceremony!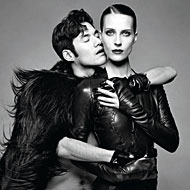 The CFDA awards, the Oscars of the fashion industry, are on Monday! Each year the CFDA publishes not just a program for the awards, but a journal, featuring sexy shots of the nominees. Most of the time it's the designers' clothes that do the vamping, but in this journal they get to flaunt their sexy stuff, too. Alexander Wang posed with six of his friends from high school. Tom Ford posed on his own with a series of mirrors that reflect his image, so instead of one Tom Ford we see ten Tom Fords, because the only thing better than Tom Ford, as critics keep saying, is more Tom Ford (Tom Ford Tom Ford Tom Ford!). Sølve Sundsbø shot this year's nominees, while Lori Goldstein styled the shoot under the creative direction of Trey Laird. See a selection of this year's portraits in the slideshow, including three images obtained exclusively by the Cut.
FASHION JOURNAL [WWD]