Mew New York's Playful Prints Are Inspired by Buttons and Beads
The new line's vibrant prints and edgy cuts are available at Factoriem.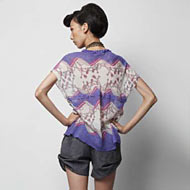 Wakana Koike and Miki Ikeda's new women's line, Mew New York, combines eye-popping prints with asymmetrical skirts and pants, then tops 'em off with a smattering of hand-stitched beads. Koike, a onetime printmaker for Tsumori Chisato, won a fashion contest on the website MyItThings.com in 2008. She launched the Mew label in January 2009 with Ikeda, who was at the time working as a pattern-maker for United Bamboo. The label's initial success led to spring 2010 collaborations with Anthropologie and Uniqlo.
High-impact color is the basis of the line, flaunted in prints inspired by piles of beads, stacks of buttons, and childhood trinkets. The resulting collections are simultaneously fanciful and chic. "We wanted to celebrate the frill and charm of girlish memories, translated into clothing for a sophisticated woman," says Koike. Thus, candy-colored polka dots paired with demure tartan checks and bold ethnic prints are tempered with asymmetrical cardigans. The Mew New York line is stocked at Factoriem on the Lower East Side. Click ahead for a closer look at the spring and fall 2010 collections.
BEGIN SLIDESHOW