What to Buy at the Mister Market in Brooklyn This Weekend
Chambray shirts, leather suspenders, and compasses top the must-have list.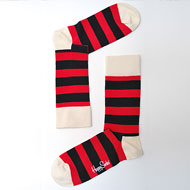 This one's for all you male Cut readers (or female Cut readers with a male friend in need of sartorial help): New York has hosted hordes of ovary-centric markets and shopping bazaars (the Bust Craftacular and Renegade Craft Fair among them), but this weekend's biggest to-do is all about the boys. Mister Market takes over Brooklyn's Public Assembly (70 N. 6th Street, near Wythe Street, Williamsburg) from noon to 6 p.m. on Sunday, June 13, shilling vintage and modern menswear, rare vinyl, and more. Nothing costs more than a Benjamin, and the shopfest — co-curated by Alter owners Roy Caires and Tommy Cole and Kill Devil Hill's Mark Straiton and Mary Brockman — includes hip picks from Osborn Shoes, Dijital Fix, Maxx & Unicorn, Houndstooth, and the Brooklyn Denim Co. Caires hooked us up with some exclusive images of products that'll be for sale; click through to see some of our (arguably unisex) faves.