23 Best New iPad Accessories (So What If You Don't Own One?)
Our roundup includes skins, sleeves, cases, decals, car adapters, and more.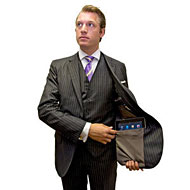 Ever since the iPad debuted in April, retailers have been dreaming up ways to cash in on the iGeek frenzy. Refinery 29 recently took stock of the least fugly storage cases on the market, and now even high-end designers have jumped on the iBandwagon (sorry, it's too easy). Louis Vuitton's forthcoming iPad case will cost almost as much as the device itself, while Gucci's version is slightly more affordable at $230. Marc by Marc Jacobs will introduce a neon neoprene sleeve in November, and Jack Spade, Kate Spade, and Dolce & Gabbana are all rumored to have iPad cases in the works.The iPad accessories currently on the market range from the purely decorative (decals), to the functional (stands, chargers), to the bizarre (suit jackets with kangaroo-style iPad pouches). Click ahead to see a roundup of our favorite iPad add-ons.