I Still Love You's Sheer Summer Looks
Check out the lingerie-inspired looks from this week's Talent Scout.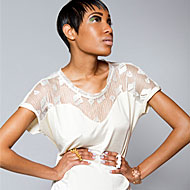 In New York's humidity, we've been appreciating the sheer trend lately (though the verdict's still out on some of its adaptations), so we were impressed by Bushwick-based designer Carrie Morrissey's new capsule collection, which launched last week. After four years working in the corporate design realm and creating her own patterns at night, the Rhode Island native founded her own label, I Still Love You, last year. The spring line's delicate, lingerie-inspired line of lacy tunics, eyelet crop tops, high-waisted silk shorts, and opaque leggings are meant to be mixed and matched into your existing wardrobe, making for easy, distinctive summer staples.
Comfort is crucial, says Morrissey, who favors silk, lace, and cotton modal fabrics. "I'm all about the playoff between opacity and sheerness," she says. "I like a look that's demure and revealing at the same time." In practice, that means lacy bike shorts ("You can really throw them on under any dress or short shorts and jump on your bike," she says) and ivory and nude-tone lace tops. The full collection is available at Convent, where she'll also unveil exclusive items for fall. Click ahead to see more pieces from the spring collection.
BEGIN SLIDESHOW