Agyness Deyn Will Blog for Pints
The model will be video blogging from the AllSaints-sponsored lounge at the Jelly Pool Parties.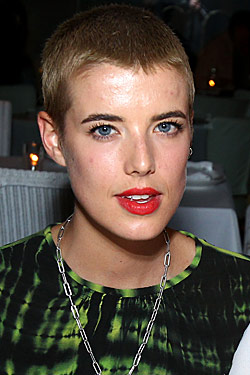 British chain AllSaints Spitalfields is teaming with Agyness Deyn and the concert promoters behind Williamsburg's Jelly Pool Parties in support of the festival's fifth anniversary. The retailer will host a VIP lounge where concertgoers can grab complimentary cocktails, pints, and food, and the venue will be decorated with "vintage fixtures, old world bars, steel beams, and exposed brick walls similar to the AllSaints aesthetic." (No word yet on whether it will also boast a wall full of sewing machines.) Where does Agyness fit into all this? The model and her friend, Fiona Byrne, will be video blogging for their newly launched fashion-mag website, NAAG.com, directly from the AllSaints lounge.The pair will be interviewing band members and offering style commentary in between all those free pints and snacks. Jelly Pool Parties kick off July 11 with a performance by Deerhoof and Xiu Xiu, and video content can be viewed at AllSaints, Facebook, and NAAG.