Slideshow: The Best Beach Towels Under the Sun
Including top picks from Marc by Marc Jacobs, DVF, Lacoste, Calypso St. Barth, and more.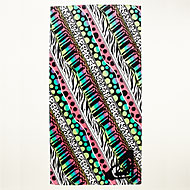 Last week, American Apparel debuted its sexy-hot NSFW beach-towel collab with BUTT Magazine — a fine investment if you don't mind canoodling in public with a well-hung naked bear. For the rest of you, there's this roundup of bangin' beach towels, featuring all manner of textural stripes, geometric patterns, and designer logos (if you're into that sort of thing). At the very least, a stylish towel gives you something cool to look at while you slow-roast your back. Click ahead to see our top twelve picks.