Your One and Only Chance to Sleep With Beyoncé
Design Hunting takes a look at the pop star's new bedding collection.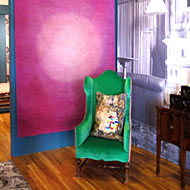 It's been a busy two weeks for Design Hunting. Beyoncé and her mother, Tina Knowles, launched their first-ever bedding collection for the Deréon label. We were hoping to meet the divine pop star and her mom — didn't happen — but we did get a full tour of all the fun new designs. In other news, David Rockwell launched his first collection for The Rug Company; Heidi Rosenau gave us a preview of The Frick Collection's 75th anniversary show; we met Robyn Pocker of J. Pocker & Son, a family-owned framing business on the Upper East Side; and so much more. Click ahead to see a slideshow of our terrific design finds.