Nars Casts Daphne Guinness for the Fall Campaign, May Open a Store on Bleecker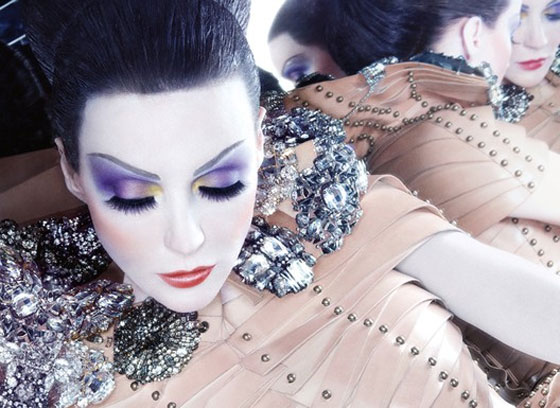 That's not the porcelain face of some nobody trying to sell you makeup. That's Daphne Guinness trying to sell you the new $23 purple eye shadow François Nars made for and named after her. "When I started thinking about colors that meant Daphne to me, purple felt right," he explains of his creative process.
The fall Nars collection is expected to fetch $8 million in sales worldwide, which will no doubt help François make his first stand-alone store — which is slated to open in November — extra fabulous. The shop may be even more fabulous than Nars makeup inherently is if it's able to nestle into the Marc Jacobs empire on Bleecker Street, which is a possibility. "I will do special items which will only be available in the store — palettes, maybe a nail polish called Bleecker Street — and I want to sell DVDs of my favorite movies. Marc may do accessories. It's going to be great," he explained. The only thing more fabulous than selling your favorite things in a store full of products that don't at all relate, except through you, is owning one's own island, which François does, of course, in Tahiti. He might put a book out about that next year, which he'll need to add to the store's merchandise mix if he wants to make his shop retain just the right balance of commercialism and eclecticism that makes tourists think the street is truly something special — and not just for its cupcakes.