Taylor Momsen Will Be the Face of John Galliano's Perfume
The two actually have a lot in common.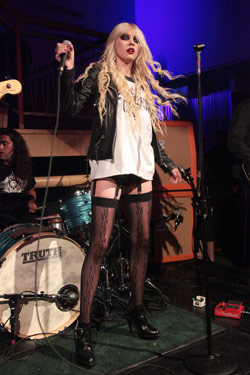 Some of Taylor Momsen's wardrobe choices seem so wrong for her tender 16 years of age. The clear money heels, the pants allergy, the lingerie worn as clothing. But while all that may not work for parents and lots of other onlookers, it seems to be working pretty well for the fashion industry! After appearing in ads for British chain New Look and Madonna's Material Girl line for Macy's, Momsen will appear in the campaign for John Galliano's new scent coming out this fall. It's a pretty logical pairing when you think about it, since they both like a lot of the same stuff, such as lots of makeup, lingerie as outerwear, and surprising people — just like this announcement did.
Gossip Girl wild child Taylor Momsen revealed as the face of John Galliano's new fragrance [Daily Mail UK]