Vogue's September Issue Will Be the Fattest
Ah, the good old days!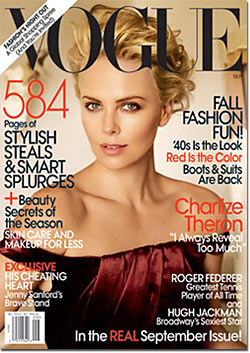 Last year, September fashion magazines were that oh-so-frightful thing they, unlike many of the people in their pages, never want to be: skinny. Many of last year's most important issues weren't just skinny, they were downright famished, as they weathered blow after blow from a horrible economy. But the layoffs have ended, the economic pressure has eased, curves are "in," and this year's September issues are fat again! Well, some of them. Vogue is the fattest, with 532 ad pages — an almost 25 percent increase from last year. Also pleasantly plump is InStyle, with 403 ad pages, marking the first time since 2000 the issue has racked up more than 400.
Elle has rounded out to 382 pages, up 18 percent from last year. Harper's Bazaar isn't quite as chunky, with 302 pages, a 12 percent increase. And W, which will be redesigned under new editor-in-chief Stefano Tonchi in September, filled out to 252 pages, up 31 percent. Glamour wins for the biggest page increase — 58 percent — coming in at a healthy, bloated 241 pages. And Marie Claire put on the least weight of all of them, with a 10 percent ad-page increase to 156.
UP, UP, UP — AT LAST [WWD]