Lady Gaga's Stylist Picks His Favorite Looks From the Past Year
And we're remembering them in rhyming verse.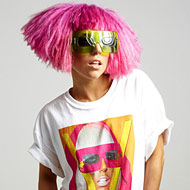 A year ago, Lady Gaga appeared on the cover of V with burnt-orange skin and stick-on plastic sunglasses over her eyes. But she's come a long way since then, and is gobs more famous, more thickly accented, and much paler. The new issue of V takes a look back at the last twelve months in Gaga fashion, as her stylist Nicola Formichetti picks his favorite looks of hers. See them and reminisce with us in the slideshow.
Related: The Lady Gaga Look Book