Slideshow: The Week in Street Style
The Internet's best style pics, from Oslo to Philadelphia.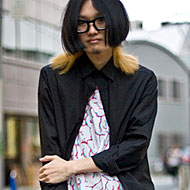 There has been some debate, both in the Cut comments section and on other blogs (Style Defined NYC, we saw that), as to how we pick the street- and personal-style photos seen in our weekly Street Comber feature. Naturally, the answer is highly unscientific, totally subjective, and borderline cornball: We pick what moves us. That can translate in all kinds of ways: a shot selected because it's beautifully composed, or because its subject is wearing the type of outfit or hairstyle or smug grin that'd turn our heads on the sidewalk, or — most likely — some combination thereof. In other words, Street Comber is an homage to people who wear their looks with conviction, who think about what they're going to wear before they wear it or craft what they wear in such a way that it doesn't look like they thought about it at all, and whose looks tend to inspire and/or evoke some kind of deep-gut reaction — for better or for worse. It's also a celebration of the international roster of photographers who've made it their mission to document these inspiring dressers. So there you have it. Now on to the slideshow!
See Also: Street Comber: Best of the Street Style Blogs, Vols. 1, 2, 3, and 4
BEGIN SLIDESHOW