Slideshow: The Week in Street Style
Browse the best street-style snaps from around the world, all in one place.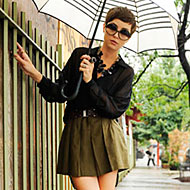 Travel around the world in eighteen pics: This week's Street Comber column unearthed a local fashion icon who manages to look chic even in the drowning rains, a Buffalonian who pulls off high-waisted leather short shorts and a floppy hat, one of Gaga's little monsters in Chicago (beer-can hair curlers and all), and living, breathing proof that punk's not dead in Stockholm (and neither, apparently, are studded, open-toe man booties). Meet 'em all — plus cats from Austin, Stockholm, Copenhagen, Tel Aviv, and other far-flung locales — in the slideshow ahead.
See Also: Last week's Street Comber slideshow