Slideshow: The Week in Street Style
The most sartorially inspirational pics, from Osaka to Mexico City.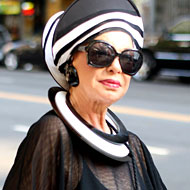 All hail Street Comber, your weekly digest of the Interweb's best street-style and personal-style photographs. This go-round, our beloved gaggle of bang-up photogs have uncovered handsomely dressed cats in Düsseldorf, Mexico City, Osaka, Portland, Paris, and, of course, New York. Click ahead to see fifteen great looks, including a happy-go-lucky polka-dot jacket, a trench coat cleverly belted with a bit of rope, big cork wedges, and a fly pair of on-trend glitzy gold pants. If you like what you see, show some love for the photographers by paying a visit to their style sites — and recommending new ones for us to check out in the comments section.