Musette Hits Soho in Five-Inch Platforms
The Romanian footwear brand launches its New York flagship on Friday.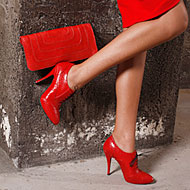 Though Romania-based footwear brand Musette has been around since the early nineties and boasts fifteen stores throughout Europe, the company has more or less gone undiscovered in the U.S. — till now, that is. This Friday, the European label will open its first Stateside store in Soho, a whitewashed 400-square-foot flagship featuring more than 100 towering styles, offset by the store's purple accents and silk wallpaper. These kicks are not meant for those sensible New Yorkers who live in understated ballet flats and Converse; most of the boots and pumps feature splashy colors and substantial platforms.
The brand's team of Italian designers creates more than 100 new styles for the spring/summer and fall/winter seasons, and around twenty new designs will be trickling in from Europe every two weeks throughout September and October. (Look out for exclusive and limited-edition styles later this fall, including two versions of a python heel.) Pumps range from $100 to $300, boots from $200 to $350, and bags and clutches from $200 to $300. Click ahead to check out the collection.
438 W. Broadway, nr. Prince St. (917-691-0012); daily 11—8
BEGIN SLIDESHOW