Slideshow: Urban Outfitters' First Jewelry Studio Look Book
A slew of New York designers have been brought onboard for summer and fall.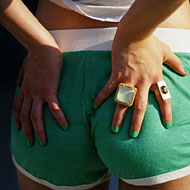 Urban Outfitters introduced its new jewelry studio in mid-July, an online collection of collaborations with New York designers like Jules Kim, Species by the Thousands, and Lizzie Fortunato (as well as international faves like Erika Pena and Sabrina Dehoff). The baubles are considerably higher-end than UO's usual under-$30 trinkets, and include chunky cocktail rings, knuckle dusters, and mixed-media necklaces. New pieces will be added to the site through Labor Day, and five to eight as-of-yet-unnamed designers are joining the ranks for the holiday season. Up next: new offerings from Chrishabana. Click ahead to see the studio's inaugural look book.