Exclusive: Terry Richardson Shot Barbara Bush for V Magazine
And other socialites in various states of DRESS, rather than UNdress.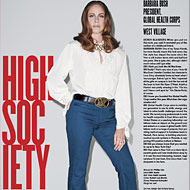 The next issue of V hitting stands September 2 is the "New York Issue." So it's the perfect place for New York socialites to use the modeling skills they usually have to exercise before cameras at parties for photos that may never get published anywhere. But V highlights not just socialites who can pose, but socialites who do other things well, like design clothes, fight skin cancer, and make movies. Terry Richardson shot ladies like Barbara Bush, Allison Sarofim, and Dr. Lisa Airan in full seventies-inspired looks. That means full pants for all of them but one, and lots of other fabric to cover their bodies. Also, it gives you the excuse to tell your friends at dinner: "Guess what, guys! Terry Richardson shot a BUSH!" See the editorial in the slideshow.