Slideshow: 30 Cozy Collegiate Cardigans
The best bets for guys and girls from Billy Reid, Sonia Rykiel, the Brooklyn Circus, and more.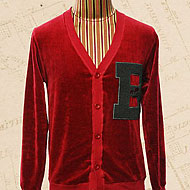 Okay, so the weather outside is frightful — and not in a toasty mug-of-hot-cocoa-by-the-fireplace way. More like apocalyptic summer heat with a side of Hurricane Earl. But that won't stop us from dreaming of fall, and pillaging the stores in search of the season's greatest trends. Academic wear was a holdover from the spring shows, manifesting itself in everything from nerdy cat-eye glasses to knee-high socks to cozy collegiate sweaters, done up in wool, cotton, and cashmere, some smart and plain, others decorated with stripes, letters, patches, and crests. We saw these lit-major staples do turns at rag & bone, Rachel Comey, and Sonia Rykiel, and it almost makes us want to pull one on and crack a book (we said almost). Click ahead to see 30 of our favorite takes for guys and girls, including cardis from Burberry, TSE, and The Row.