Ten Models to Watch This Fashion Week
Casting directors, take note!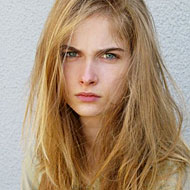 Despite the many faces that flood the modeling industry every season, only a select few make it onto those career-defining runways. So how do you tell a Jablonski from a Van der Vliet from someone who'll be here and gone faster than Naomi Campbell can chuck a BlackBerry? Listen to us. Really. Two years ago, we predicted the rise of both Lancôme face Arlenis Sosa and runway heavyweight Liu Wen; we also saw major potential in Joan Smalls years before she caught on at Gucci, Givenchy, and Vogue. We know what we're talking about here, people.
So after meeting a handful of catwalk hopefuls, chatting with modeling agents, and scouring the resort shows, we compiled a new must-watch list — the future Frejas and Chanels, if you will. Click ahead to see a slideshow of their pretty mugs, and read brief Q&As with each rising star.
See more from the Spring 2011 preview:
• Slideshow: 100 Designers Reveal Their Spring 2011 Inspirations
• Nine Designers to Watch This Fashion Week
• Exclusive Video: See Alexandre Herchcovitch Draw His Spring 2011 Collection
• Exclusive video: Model Sara Ziff's Picture Me Trailer
• The Ultimate Guide to Lincoln Center
• The Complete Spring 2011 Fashion Week Calendar
BEGIN SLIDESHOW