Slideshow: Weird Lucha Libre Pod People at Perth Fashion Week
Words cannot begin to describe it.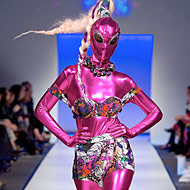 New York Fashion Week may be all anyone here who doesn't wear Uggs and/or take their style cues from JWOWW is thinking about, but half a world away, the weeklong Perth Fashion Festival is quietly drawing to a close. What's the fashion like in Western Australia? We really have no idea, outside of these INSANE images, which have just trickled in from the Up! The Final collection show that walked on September 14, Aussie time. It's, like, Lucha Libre fighters meet Power Rangers meet early-nineties Barbie, with alien eyes and Madonna-circa–Blond Ambition hair. Underneath (above?) all that WTF-ness are maybe some okay clothes — we spied at least one pretty watercolor silk dress designed by Jamie Lee — but good luck finding them. This is spectacle for spectacle's sake, of course, but considering how muted, neutral, and otherwise non-risky everything we've seen in New York so far has been, the theatrics are totally welcome. Enjoy the show!