Slideshow: The Twenty Most Stylish People From Day Four of Fashion Week
These showgoers rocked it, rain be damned.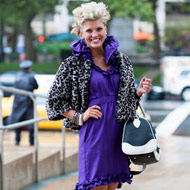 Fashion stops for no one — not even God, the heavens, the atmosphere, or whatever you believe compelled the sky to dump its soggy-wet grossness all over yesterday's showgoers. Case in point: Photographer Sam Horine managed to find twenty more photo-worthy outfits, despite the damp air and biting chill. Click ahead to see who rocked it best, rain be damned.
See More: The most stylish people from Day One, Day Two, and Day Three of Fashion Week.