The Fashions (or Lack Thereof) at New York's Premiere Electronic Music Festival
Furry boots may be in for fall, but at Electric Zoo wearing much less than that was the look du jour.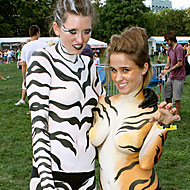 This past weekend Randall's Island was home to Electric Zoo, the two-day electronic-music megaevent that boasted four stages, 67 D.J.'s, and a sold-out crowd of 25,000 festivalgoers each day. While many dance-music lovers who attended were stuck in the age-old rave-fashion mentality of furry boots and parachute pants, many others had evolved. Furry boots may be in for fall, but what's even more in at dance music festivals these days is wearing as little as possible. For men, the look is topless; for women, the look is bras and panties, or bikinis, or nipple pasties, or just body paint. DJ Times editor Jim Tremayne even confirmed that pretty much everywhere he goes to see shows, he encounters plenty of mostly naked girls. We talked to a few awkwardly semi-naked people, some more clothed people, and some people dressed, appropriately, like zoo animals at the festival about their wardrobe choices. Check them out in the slideshow.