Slideshow: The 27 Most Stylish People From Day Seven of Fashion Week
Yesterday's batch includes Stephanie Winston Wolkoff and Scott Schuman.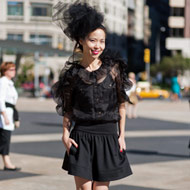 Lots of snap-snap-snapping going on up at the tents yesterday. Lensman Sam Horine caught 27 interestingly dressed folks milling about the Plaza, including models, filmmakers, musicians, retail buyers, fashion bloggers, Lincoln Center fashion director Stephanie Winston Wolkoff, and The Sartorialist photog Scott Schuman (how meta!). Click ahead to see what everyone was wearing.
See More: The most stylish people from Day One, Day Two, Day Three, Day Four, Day Five, and Day Six of Fashion Week.