Slideshow: The Week in Street Style
The best style snaps from around the world, from Jakarta to Helsinki.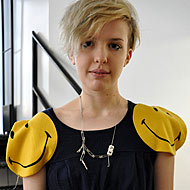 Smiley-face shoulder pads in New York. Wacky tights in Portland and Reykjavik. Karl Lagerfeld's female doppelgänger in San Diego. Frida Gustavsson in Stockholm, looking amazing even with runs in her stockings. Spot them all in the Street Comber slideshow, our weekly roundup of the web's best street-style and personal-style photography. Click ahead to get inspired.