Christine Ettelson's Knit Jewelry Gives Traditional Weaving Methods a Modern Update
Suddenly, knitting a scarf seems so passé.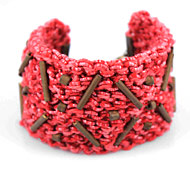 Though she designed and sold her own jewelry to a few boutiques in her native Chicago during high school, Christine Ettelson thought she had ended her short-lived fashion stint when she left to study comparative literature at Brown. After graduating and moving to New York in 2008, she happened to work in the same building as designer Julie Haus, who noticed her striking, handmade accessories. Haus asked her to collaborate on her resort 2010 collection, which Ettelson styled with her knit wool and leather jewelry and belts. Her eponymous new line is now stocked at Julie Haus's Soho store, and she's planning a pop-up shop at Inven.tory early next month.
Each hand-knit piece takes up to five hours to complete, incorporating far-flung methods like Kumihimo, a Japanese braiding technique; Lucet braiding, a form of Renaissance cording; and locker hooking, a type of weaving. After originally learning to knit as a child, Ettelson is intent on pushing the form, experimenting with materials like leather cord, thick threads, felt, and metallic trim. She mixes various yarns and threads to create swirled, customized hues — the fall collection's reds and whites were inspired by her collection of Art Nouveau glass and bronze lamps, while the holiday line's sparkle-flecked "sundowner" pieces were modeled after sunset photos from a safari trip she took over the summer. Click ahead to see more of her designs.
BEGIN SLIDESHOW