See Amy Winehouse Modeling Her New Fred Perry Line in the Full Look Book
If she's as big of a mess as 'Harper's Bazaar' would have us believe, you can't tell at all!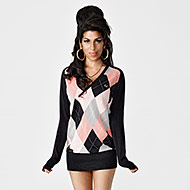 According to Harper's Bazaar, Amy Winehouse is such a mess that she can barely pose for pictures, eat crayfish salad, speak sentences that make sense, or comprehend what's going on around her. Yet she managed to design a collection for Fred Perry and model the items herself in the look book, in which she poses just fine, no signs of spilling, slurring, or not making sense apparent. Or ... are there? Meditate on that as you click through the look book in the slideshow. The line looks perfect for Jersey Shore types looking to get into argyle, which might comprise a very large market share these days.
Amy Perry's debut range for Fred Perry - the lookbook! [Catwalk Queen]